Cornflakestein
A downloadable game for Windows
2.5D FPS in which you must destroy an army of Nazi cornflakes and cookies by shooting milk at them.
Escape the castle Cornflakestein, make your way throw the secret underground laboratories, visit concentration camp and defeat world evil inside your brain!
Features:
Unusual setting
Interesting locations
Different kinds of milk guns
Good chiptune music
Download
Click download now to get access to the following files:
Cornflakestein.zip
199 MB
Comments
Log in with itch.io to leave a comment.
Here is my gameplay - 32:46
Thanks for the video! It is so pleasant for me to see that someone playing my old cornflakestein!
So I've now played through Cornflakestein, and had another question for you.

What did you do to cause the doors to open automatically when you walk up to them?

And am I correct that you made the keys invisible and dropped them at the start so that the player automatically has them once they find the exit?
I just set the same key for opening doors and forward movement (W/UP arrow).
Yes, I made the keys invisible, but I dropped them at the end right before the exit door.
Hi Skinner Space,
Am I correct that this was made in the Raycasting Game Maker?
If so, I'd love to ask about some of the new tricks you employed, as it looks like you've done some impressive stuff to mod the usual RGM experience, especially your menus.
Hi! Thanks a lot for playing my old Cornflakestein!
Of course, I can tell you what kind of tricks I used to modify RGM!
Every sprite in GameBitmaps folder has a correspondent file in the rgmys folder. You can change the position of buttons in a menu and the position of a weapon on the screen by modifying these files.
For example, in the rgmys folder, you can change the name of "weapon1bitmap1" to "weapon1bitmap1.png" to open it as a png file. Then change its resolution from standard 64x74 to 192x74, close it, remove "png" from its name, open "weapon1_1" sprite in the GameBitmaps folder and draw a weapon in the right corner of the screen if you want, instead of a weapon in the center.
The same thing with buttons in the menu, just change the resolution of a button in the rgmys and then draw what you want in the GameBitmaps.
Also, you can change the behavior of enemies and set parameters of some stuff beyond boundaries permittable in the RGM by opening some rgmys files by any HEX editor (HxD, for example). I made a list with files and characteristics which you can change.
Also, highly recommend you to use RGM 4.62 it is the best version in my opinion.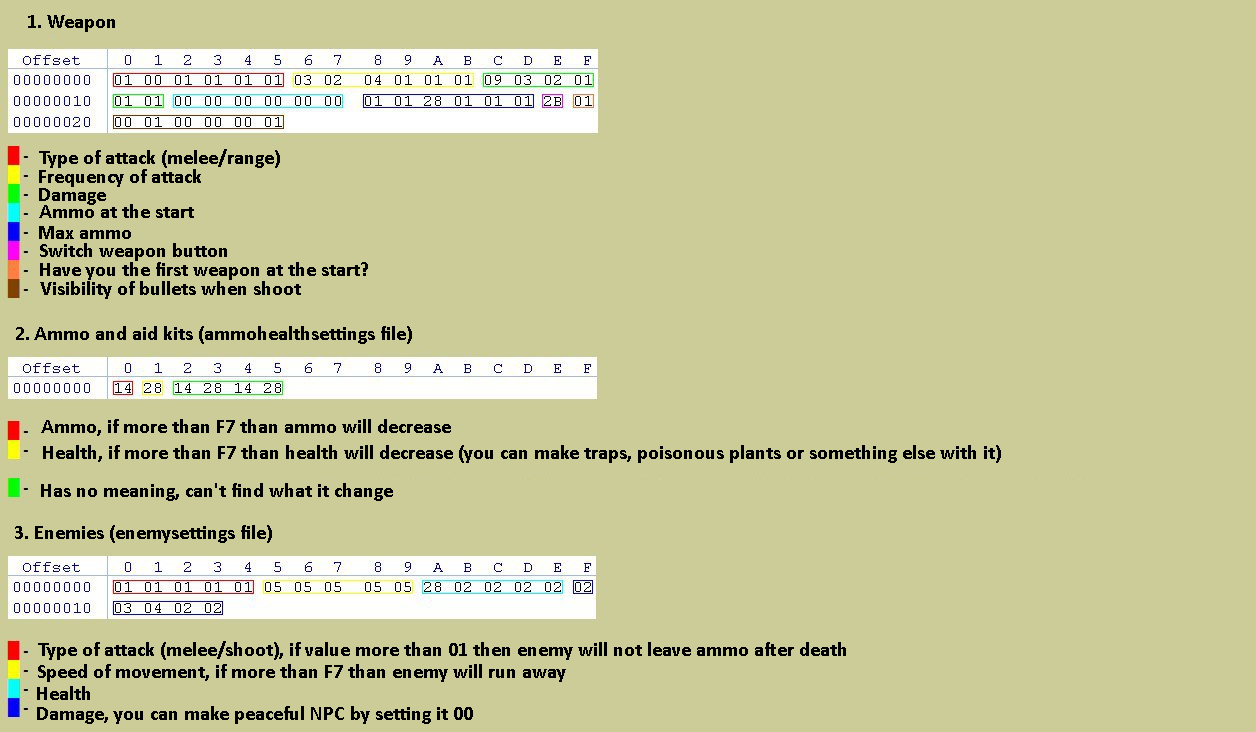 Oh my Gosh. Thank you so much for all the info.

So I'm putting together an indepth, 3 part video tutorial on how to use RGM4. Would I be able to use this graphic about the Hex Editor in it? And would I be able to use footage from your game as visual reference in the tutorial?

I'll also be writing a tutorial article over on ModDB with most of the same content.

Glad to see this finally come back after being taken off Steam. I'd love to see a sequel someday. Have you seen the game's coverage in E1M1 Magazine? I reviewed it in Issue #1.
I'm thinking about sequel too, maybe someday I will do it after completion of my current project. No, I haven't seen it.
This is fun! Any chance of adding a DOOM style WASD + Mouse mode though? Really struggling with the controls!
Thanks for feedback! Yes, after your comment, I added a game launcher with a choice of control modes. Now you can play with WADS + Mouse. I hope you enjoy my game with the new controls)